The Umbrella Academy Discussions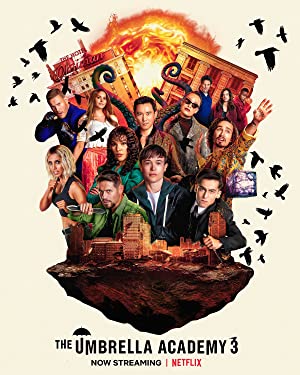 On the same day in October 1989, forty-three infants are inexplicably born to random, unconnected women who showed no signs of pregnancy the day before. Seven are adopted by Sir Reginald Hargreeves, a billionaire industrialist, who creates The Umbrella Academy and prepares his "children" to save the world. But not everything went according to plan. In their teenage years, the family fractured and the team disbanded. Now almost thirty years old, the six surviving members reunite upon the news of Hargreeves' passing. Luther, Diego, Allison, Klaus, Vanya and Number Five work together to solve a mystery surrounding their father's death. But the estranged family once again begins to come apart due to their divergent personalities and abilities, not to mention the imminent threat of a global apocalypse.

Jump to season: 1 2
S1E1
It would be cool if the Sparrow academy had a moment that mirrored the Umbrella academy dance scene from episode 1
20 comments
I'm just re watching the umbrella academy and I'm seeing that in episode 1 after the dance scene when it zooms out to show the house there is a body in what seems to be the attic above where Luther is does anyone know who that is or is it just there for like idk mystery?
4 comments
S1E2
Little Tidbits: The Umbrella Academy Season 1, Episode 2
4 comments
S1E3
(media) During S1E3, when Hazel and Cha-Cha attack the Umbrella Academy, there is a shot of RH's painting with 7 bullets in it - one for each kid.
4 comments
S1E4
(media) The Luther starting song from episode 4 of The Umbrella Academy is one of the rarest songs that made me stop an episode to search for it. Music choices in the show were on point.
7 comments
S1E8
(media) The ending song of Episode 8 of The Umbrella Academy. Love this song!
0 comments
S1E10
(media) Okay so I just started watching the Umbrella Academy and like everyone else I've wondered what city it's set in. In Season 1 Ep 10 a blast is seen from what looks like to be the midwest. I'm being vague here cause I don't wanna spoil. But it seems like one of the best hints at the location we have.
11 comments
S2E5
The Umbrella Academy was viewed for over 2.5 billion minutes (6.5 Million Viewers/Episode) in US during its debut week.
8 comments
S2E9
S2 SPOILER ALERT! Guys I have a question about s2 ep9 of The Umbrella Academy "743"
15 comments