Regular Show Discussions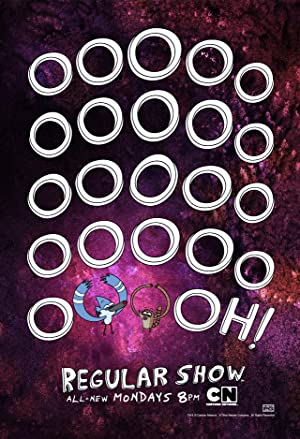 The daily surreal adventures of a blue jay and raccoon duo that attempt to deal with their mundane jobs as groundskeepers at the local park.

Jump to season: 1 2 4 5 6 7 8
S1E4
(media) every regular show episode 4 minutes into the show
30 comments
S1E9
"Bad Kiss" discussion (new episode 9/3/2012)
45 comments
S2E2
Just noticed the clock on the right said 4:20 in S2E2 of Regular Show. Glad to see it
4 comments
S2E3
So I decided to go back and watch regular show from the beginning because it came out when I was 11 and then eventually I lost track of the show and life happens…so far I'm at season two episode 4. It I love the ending of season 2 ep 3 "appreciation day" benson is just speechless and leaves lol
0 comments
S2E26
(media) is this rick astley on a regular show ep?? if anyone's going to ask its season 2 ep 26: go viral
9 comments
S4E9
(media) Josh from close enough spotted in regular show S4 E9
9 comments
S4E11
(media) Regular Show S4E11-12 "The Christmas Special": Santa Claus and their elves uses English as their language. But they write it in the style of 'Quenya' (Elvish language in The Lord of the Rings).
3 comments
S4E35
(media) In S4 E35 of Regular Show Muscle Man recalls how he watched 8 season and 257 episode of a cartoon. This is only 4 less then the total amount of episodes of Regular Show. Idk what this means but it's interesting how close they are
4 comments
S5E5
(media) Regular Show: Alignment Chart (5x5)
8 comments
S6E6
(media) My painting of The Regular Show house 🏠😊 Acrylic on 6x6 canvas
42 comments
S6E18
Episode Discussion - 1000th Chopper Flight Party (S6 E18)
91 comments
S6E23
Discussion Thread for 6x23 "Men In Uniform"
35 comments
S7E20
(media) Watching Regular Show fully for the first time i'm on season 7 episode 20 where the guys are watching a terrible film. Is this a reference to the terrible garbage day scene from Silent Night, Deadly Night 2? If it is, I love this show even more.
1 comments
S8E1
Has anyone else noticed how weird the Earth looks in Regular Show? I took this pic from S8E1. I can kind of see South and North America but then theres that weird wiggly strip next to it. Do you think it's just a style thing or is it purposeful?
9 comments