Red Dwarf Discussions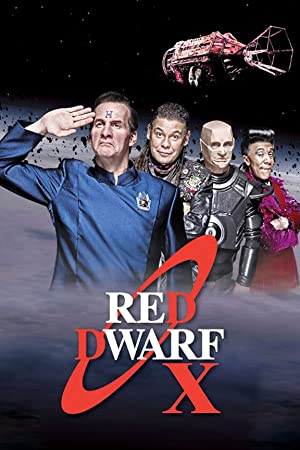 An unambitious slob from Liverpool has been awakened from a high-tech stasis chamber 3 million years in the future to find he may be one of the last humans alive. Hopelessly lost in space, this crew of mostly sad-act bachelors kill time and share adventure aboard the mining ship Red Dwarf.

Jump to season: 1 2 3 4 6 8 10
S1E1
Not sure if this has been posted or discussed. Holly could actually have been amazingly smart and an amazing ship computer before episode 1.
10 comments
Newest episode of The S1E1Podcast: Red Dwarf.
6 comments
S1E3
(media) Red Dwarf XII Episode 3, TimeWave, is now available on UKTV Play
33 comments
(media) the Dance through Red Dwarf - episode 3 - Down to the bone
5 comments
S1E4
(media) SMEGHEADS: THE RED DWARF PODCAST // Episode 4 - 'Waiting For God'
10 comments
S1E33
(media) Episode 33: Red Dwarf – Two Geeks, Two Beers Podcast
5 comments
S2E2
(media) Found out today that my dad's Jaguar E-Type was driven by Lister in series 2 episode 2 of Red Dwarf.
19 comments
(media) SMEGHEADS: THE RED DWARF PODCAST // Season 2 Episode 2 "BETTER THAN LIFE"
6 comments
S3E2
My favourite episode in the Red Dwarf is still Marooned (S3 E2). Votes please on the best line in the episode:
8 comments
S3E12
There was a call out to red dwarf on the office in season 3 episode 12, Dwight does Rimmers salute when he resigns. I think he does this a couple times but this was very blatant
10 comments
S3E84
(media) Delighted! £3.84 online, first Red Dwarf book experience.
38 comments
S4E6
Red Dwarf S4 E6 "Meltdown" is censored/re-cut on Now TV.
6 comments
S6E5
(media) I've been rewatching Red Dwarf. Took these screenshots from S06E05 - Rimmerworld.
8 comments
S8E1
Red Dwarf makes me laugh and cry. Season 8 episode 1 rimmer made me sad
19 comments
S10E1
Understanding Red Dwarf season 10 episode 1
39 comments