Jeopardy! Discussions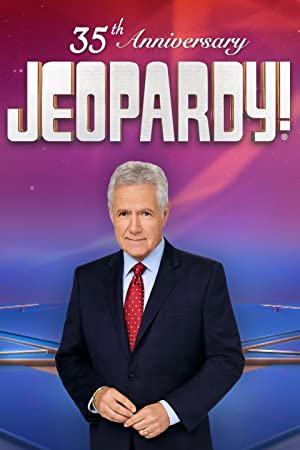 On the heels of the syndicated success of "Wheel of Fortune (1983)", producer Merv Griffin decided to return his classic quiz show-with-a-twist, "Jeopardy!" to the airwaves in 1984. It, too, was a huge success, and also marked a return to the game's tried-and-true formula of answers and questions (after a slightly-modified remake six years earlier failed to catch on). Three contestants, including a returning champion, competed. Six categories are announced (e.g., Art World, Cooking, 20th Century Republicans, "Friends (1994)", Muscle Men and College Girls Wearing White T-shirts), each having five answers ostensibly graded by difficulty, from $100 to $500. The champion chose a category and dollar amount (e.g., "College Girls Wearing White T-shirts for $100"), to which host Trebek reads the answer ("Inspector 12 must give her seal of approval before a college girl can wear one of these plain white T-shirts"). Contestants had to respond in question form ("What is Hanes?") ; if correct, they won the value of the question; if he/she was incorrect, failed to answer in time or phrase in the form of a question, that amount was deducted (hence, the dollar amount was "always in jeopardy") and his/her opponents could answer; having enough incorrect answers often led to negative scores. Thereafter, the contestant providing the last correct question selected next, and the process repeated; some answers made use of audio and/or video clues. Hidden behind one of the answers was a "Daily Double" space, with the contestant selecting that space able to wager up to all his/her current winnings or up to $500 if he/she had less) on the answer. After all 30 answers have been revealed (or sometimes, an undefined time limit expired), the game moved into "Double Jeopardy!" Gameplay was the same in "Double Jeopardy!" except six new categories were announced and the answers had values of $200 to $1,000 and two "Daily Double" spaces were hidden (with contestants able to wager up to $1,000 if they had less). At the end of the "Double Jeopardy!" round, all contestants with at least $1 were eligible to play "Final Jeopardy!"; however, anyone with $0 or a negative score was disqualified from further play. Trebek announced a category, and the contestants (before seeing the answer) wagered up to everything they had on their ability to answer. Contestants had 30 seconds to write what they believed was the correct question. Those who were correct had the amount they wagered added to their winnings; however, any incorrect questions or failing to phrase properly lost what they wagered. The contestant with the most cash was champion, kept his/her winnings and got to return the next day. Champions competed until they won five shows (at which point they retired undefeated and, starting in 1997, also won a new car) or until they were defeated. All five-time champions and other high-scoring contestants over a period of time participated in a Tournament of Champions, the winner earning an additional $100,000; there were also teen, college, senior and international tournaments and celebrity shows conducted (the winners of the non-celebrity tournaments also earned a spot in the Tournament of Champions). In the fall of 2001, several changes were made, including the use of a "Clue Crew" (new regulars illustrating answers in selected categories by going "on location"), and an increase in the dollar values of the answers (from $200 to $1,000 in Jeopardy! and $400 to $2,000 in Double Jeopardy!) ; another running change through the years was the addition of "celebrity guests" reading certain answers. None of the changes altered the basic game play, however.

Jump to season: 1 2 8 38
S1E1
(media) Inside Jeopardy! is now being posted to the Jeopardy! YouTube channel. Here's the link to Episode 1.
1 comments
S1E2
Hi folks, Garrett Marcotte here - the discussions on this sub got me back into Jeopardy again after a long time not watching and was super helpful in prepping for the show. Just wanted to say thanks (esp. to u/jaysjep2 for the daily recaps) and keep being awesome! Also happy to answer any questions.
55 comments
The "Inside Jeopardy!" podcast episode 2 contains a mix of the current theme song "with Johnny Gilbert on lead guitar." Michael Davies, if you're reading this, could you please arrange your staff to upload the full version on the show's Youtube channel?
9 comments
S1E3
(media) Inside Jeopardy! Episode 3: What is the New Tournament of Champions?
164 comments
S1E4
(media) Inside Jeopardy! Episode 4: Who Are the Jeopardy! Co-Head Writers?
12 comments
S1E7
(media) Inside Jeopardy! - Episode 7: What Is Celebrity Jeopardy!?
31 comments
S2E5
My 2.5 year old is a big Jeopardy! fan, especially of Ken Jennings. I told him there would be new episodes next week, with Ken reading questions. He replied, "why he not reading CLUES?"
8 comments
S2E22
Coryat poll for Terrible 2s-day, 2.22.2022
6 comments
S8E5
(media) My son "watched" Jeopardy! when he was just 11 hours old. 8.5 months later and I'm happy to report that he finally fits into his J! onesie!
36 comments
S38E1
Boston viewers: Friday's Jeopardy will air at 7:30pm on WSBK 38.1
21 comments
S38E2022
Jeopardy! Season 38 TV Ratings as of Week 26 (Maureen O'Neil became an eligible contender at the 2022 TOC & Ken's 100th episode)
1 comments