Invincible Discussions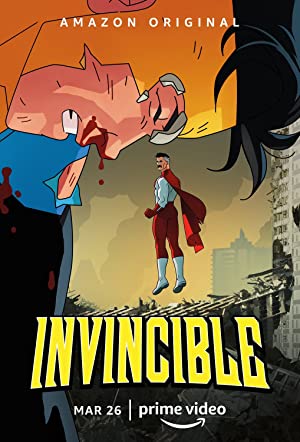 The son of Earth's most powerful superhero is about to become something greater than himself: something bold, something universal, something - Invincible. From the comics to the screen, Invincible follows Mark Grayson's journey of becoming Earth's next great defender after his father, Nolan Grayson: also known as Omni-Man.

Jump to season: 1 2 3 12
S1E2
(media) Invincible episode 2 with no context
7 comments
(media) Episode 2 Title Card. The blood splatter kind of crosses the "In" in Invincible. Foreshadowing, or am I dumb?
3 comments
S1E3
I couldn't help but to do a lot of research after episode 3
40 comments
(media) 'Invincible' Episode 3 recap/review: A great example of just how special this series is going to be
0 comments
S1E50
(media) The Invincible Podcast - Episode 50: Issue #144 with Robert Kirkman
4 comments
S2E2
(media) POV:Season 2 episode 2 of invincible
10 comments
S2E8
(media) Probably the only version of the meme that works with the same dialogue. [Castlevania Netflix S2 spoilers + Invincible Episode 8 spoilers]
0 comments
S2E20
(media) [DiscussingFilms on Twitter]: Invincible Season 2 will be 20 episodes long ! (Source: Variety)
5 comments
S3E6
(media) REWIND Hispano 2021 by Alecmolon did a 3.6 second sequence of Invincible's Mark Grayson as trend of the year.
25 comments
S12E15
(media) In Season 12 Episode 15 of King of the Hill at 9:20 Bobby can be seen in his room reading and "Invincible" comic.
3 comments