Gurren Lagann Discussions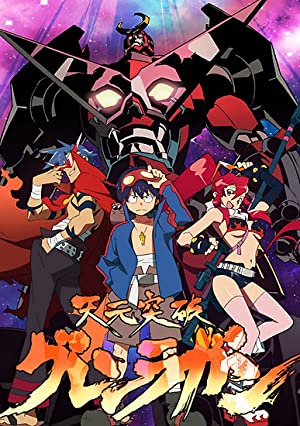 In their closed-off underground village, Kamina and Simon chafe at the limits imposed by the village elder. Yet all this will change, when Simon stumbles across a fantastic device - just as the village's peace is broken by a violent intrusion.

Jump to season: 1 5
S1E1
(media) Gurren Lagann Review - Zen Anime Episode 1
1 comments
S1E2
(media) NEW GURREN LAGANN ABRIDGED "Gurren Lackin' Episode 2 Trailer"
3 comments
(media) Gurren Lackin' Episode 2 (Gurren Lagann Abridged)
0 comments
S1E4
(media) Osamu Kobayashi, best known for episode 4 of Gurren Lagann, has died of cancer at the age of 57.
4 comments
S1E5
(media) Episodic Gurren Lagann Interviews with Director Hiroyuki Imaishi & co. - Episode 5 (Anime Style, January 2008) - Full Frontal
2 comments
S1E8
(media) IDC how many times I watch Gurren Lagann. Episode 8 never gets easier to watch. 💔
4 comments
(media) When someone tells me they stopped watching Gurren Lagann at episode 8
27 comments
(media) My friend's text while watching through Gurren Lagann before and after episode 8
1 comments
S1E26
Unpopular opinion: The Kamina in the Multiverse Labyrinth of episode 26, is in fact, the real Kamina
40 comments
S5E5
Rewatching with a friend, first time he's seen Gurren Lagann; should we watch the DS episode (5.5) between 5 and 6, or does it risk spoilers?
2 comments