Entourage Discussions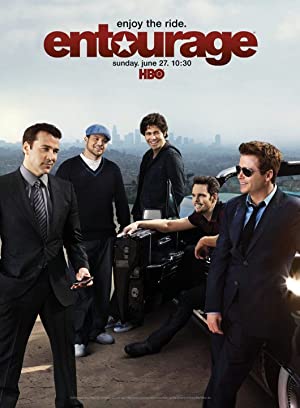 In this sitcom, the suddenly risen film star Vince Chase, a 'jeune premiere' of humble origins, learns the ropes of the business and the high-profile world of the wealthy happy few in and around Hollywood, but not alone: he brings from his native New York his atypical 'entourage (hence the title), not glitterati or professionals but a close circle of friends since childhood, and his professional agent finds they often make his job harder as the Queens boys not only sponge on the star but also have his ear, so Vince is much harder to counsel. Vince chooses his friend from home Eric as his manager, and LA professional Ari Gold as his agent. Over the course of the Series, they progress from kids from Queens, to actors, to producers and chase the funding and support to try to make the perfect movie for Vincent.

Jump to season: 2 3 4 5 6 9
S2E2
I have a question for the entourage fans. It's about season 2 episode 2 when Eric has sex with the really hot girl.
4 comments
S2E6
Vince is never better on Entourage than when he is acting. My absolute favorite scenes in the show. Vince in the energy drink commercial for Hong Kong and when the guys are watching Aquaman jump from the pier to the oncoming wave. Shame he wasn't allowed to have more of those moments. S2E6 Chinatown
15 comments
S4E6
Example of Entourage's excellent dialogue - season 4, episode 6.
3 comments
S5E6
Rewatching Entourage, does anyone wanna do a discussion on some eps? I'll start with the one I'm watching now. Season 5 ep 6 ReDOMption: If people are into it let's keep this going
17 comments
S6E5
(media) "Stop staring at the guy like you want to fuck him Turtle.." Entourage - Fore! (Season 6 Episode 5)
3 comments
S9E1
(media) I wrote a mock-teleplay for Season 9 Episode 1 of Entourage. Let me know what you think.
13 comments