Charlotte Discussions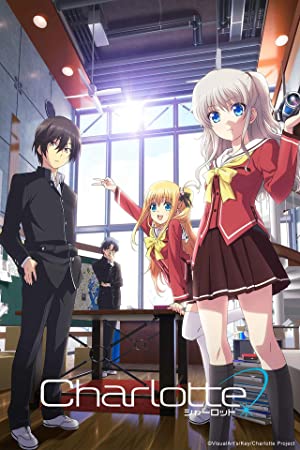 In an alternate world, a small percentage of children are able to manifest superpowers upon reaching puberty. Yuu Otosaka, a boy who awakens the ability to temporarily possess others, hopes to use his power to live an easy going high school life. However, he is caught red-handed by the mysterious Nao Tomori and is forced to transfer to Hoshinoumi Academy, where he and the other student council members must help students who have trouble controlling their abilities.

Jump to season: 1 8
S1E1
(media) [Charlotte] Episode 1 encounter
5 comments
S1E2
[Fanart] (Spoilers for Charlotte Episode 2) Nao's Picture!
47 comments
S1E8
(media) [SPOILERS] Charlotte's Episode 8 Preview
54 comments
[Spoilers] Thoughts on Charlotte and MAL reviews (up through episode 8)
29 comments
S1E11
(media) Charlotte Episode 11 Preview (OH GOD! WHAT!)
197 comments
S8E5
Anime ratings: charlotte. Solid 8.5 out of 10.
18 comments