Band of Brothers Discussions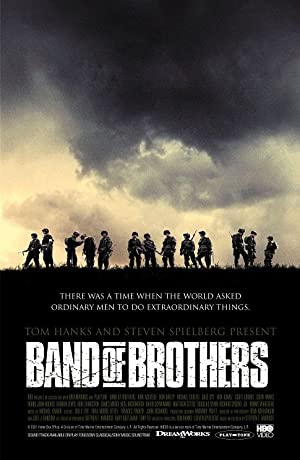 This is the story of "E" Easy Company, 506th Regiment of the 101st Airborne Division from their initial training starting in 1942 to the end of World War II. They parachuted behind enemy lines in the early hours of D-Day in support of the landings at Utah beach, participated in the liberation of Carentan and again parachuted into action during Operation Market Garden. They also liberated a concentration camp and were the first to enter Hitler's mountain retreat in Berchtesgaden. A fascinating tale of comradeship that is, in the end, a tale of ordinary men who did extraordinary things.

Jump to season: 1 2 8 9
S1E2
Band of Brothers Podcast | Episode 2 with John Orloff & Richard Loncraine | HBO Max
4 comments
S1E3
Band of Brothers Podcast | Episode 3 "Carentan" with Capt. Dale Dye & Matthew Settle | HBO Max
5 comments
S1E5
Episode 5: Crossroads - Discussion Thread
1 comments
Band of Brothers Podcast | Episode 5 with Erik Jendresen | HBO Max
1 comments
S1E6
Episode 6: Bastogne - Discussion Thread
5 comments
Band of Brothers Podcast | Episode 6 "Bastogne" with Shane Taylor | HBO Max
9 comments
S1E7
Episode 7: The Breaking Point - Discussion Thread
11 comments
(media) Band Of Brothers Podcast | Episode 7 "The Breaking Point" With Donnie Wahlberg
7 comments
S1E8
Episode 8: The Last Patrol - Discussion Thread
12 comments
Band Of Brothers Podcast | Episode 8 The Last Patrol (with Scott Grimes) | HBO Max
21 comments
(media) I recently watched Band of Brothers for the first time, and I don't know if this has been discovered yet, but on episode 8 "The Patrol" at 33 minutes and 15 seconds you can see a film crew member in a bright orange vest walking around in the background on the German side of the riverbank.
10 comments
S1E9
Episode 9: Why We Fight - Discussion Thread
9 comments
Band Of Brothers Podcast | Episode 9 Why We Fight (with Ross McCall & John Orloff) | HBO Max
5 comments
S1E10
Band of Brothers Podcast | Episode 10 with Damian Lewis | HBO Max
7 comments
S1E50
(media) Band of Brothers D-Day Locations!!! | History Traveler Episode 50
0 comments
S2E6
(media) A nice Band of Brothers easter egg in the tv series Jericho, in S2E6. When Richard Speight Jr (Skip Muck) pulls on a stolen Army uniform the nametag is Muck.
9 comments
S8E10
(media) Shane Taylor "Band of Brothers" Interview (skip to 8.10 for Bob)
1 comments
S9E99
(media) Band of brothers Bluray Black Friday at Best Buy online and in store 9.99
1 comments