Bakemonogatari Discussions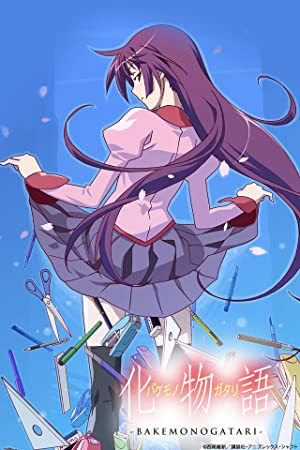 Follows the adventures of Koyomi Araragi, a former vampire. One day, a classmate named Hitagi Senjougahara, a loner, falls down the stairs into Koyomi's arms. Hitagi appears to weigh next to nothing, defying physics. Despite being threatened by her to keep away, Koyomi offers his help, and introduces her to Meme Oshino, a strange middle-aged man living in an abandoned building, who cured him of vampirism. Koyomi becomes gradually more involved in cases related to unusual supernatural creatures, meeting new people and discovering secrets in the people he thought he knew.

Jump to season: 1 2020
S1E1
[Spoilers] Bakemonogatari - Episode 1 Hitagi Crab
14 comments
S1E2
What happen in like the first ep. like when mc saw some girl panties in Bakemonogatari (no spoiler pls I'm on ep2)
11 comments
S1E3
(media) Araragi art reference from bakemonogatari ep 3.
3 comments
S1E4
[Spoilers] Bakemonogatari Rewatch Episode 4 Discussion
5 comments
S1E6
The Great Monogatari Rewatch: Arc 3 - Suruga Monkey (Bakemonogatari ep 6-8)
12 comments
S1E8
Bakemonogatari episode 8 question (please no spoilers beyond this episode)
6 comments
One thing that's been bothering me in ep 8 of Bakemonogatari
13 comments
S1E10
[Shitpost] Just watched up to ep 10 of bakemonogatari
3 comments
S1E12
What novel is bakemonogatari ep 12 part of?
2 comments
S1E15
(media) [No Spoilers] [Bakemonogatari e15] Not really related to the story but... Can someone explain the meaning of this sign in the old Cram School?
3 comments
S2020E1
Monogatari Series 2020 Novel Order Rewatch - Bakemonogatari Episode 1
1 comments
S2020E7
Monogatari Series 2020 Novel Order Rewatch - Bakemonogatari Episode 7
1 comments
S2020E14
Monogatari Series 2020 Novel Order Rewatch - Bakemonogatari Episode 14
1 comments
S2020E15
Monogatari Series 2020 Novel Order Rewatch - Bakemonogatari Episode 15 (Finale)
1 comments